Are you ready to take your passion for beauty and turn it into a thriving salon business? 
We get it. Owning a salon is exhilarating, but it can also be overwhelming, especially if you're just starting. The good news is that you're not alone in this journey; we're here to help.
That's why we've curated this list of the top 6 tips for new salon owners like you. We want to equip you with the knowledge and insights to help you navigate the path to success.
So, let's dive in and discover how to maximize your salon's potential.
Finding the Perfect Salon Suite
The "perfect" salon suite plays a crucial role in the success of your business.
The truth is: location is key, as it can significantly impact your visibility and accessibility to your target clientele. But other considerations, such as the size of the space, the layout, and the overall ambiance, may also play a huge part in creating an inviting and comfortable atmosphere for your clients.
Start by visualizing how you want your salon to look and feel, and ensure that the suite aligns with your vision. Then, research "salons for rent near me" or "salon suite rental near me" to find options in your desired area.
At Luxame Salon Studios, we offer fully customizable luxury salon suites specifically designed to meet the needs of salon professionals like you. Our suites are strategically located in vibrant communities in Georgia and Sugar Hill. And if you're still in the market for the perfect salon suite, our team can assist you in finding the ideal space to match your vision.
Set Up Your Salon Suite for Success
Once you've secured the perfect salon suite, it's time to transform it into a space that reflects your brand and creates a welcoming environment for your clients. 
Why? Effective salon design and layout principles can make a significant difference in client satisfaction and operational efficiency. Consider factors such as the flow of foot traffic, the placement of salon stations, and the availability of comfortable seating areas. Optimize the use of space by strategically arranging furniture and equipment. 
Remember, a well-designed salon suite will not only enhance the client experience but also improve the productivity and functionality of your salon. 
Behind every successful salon is a strong team of talented and passionate professionals. But how do you find them? 
Start by defining the roles and positions you need within your team, then craft detailed job descriptions that outline the qualifications and skills required for each role. When conducting interviews, look for candidates who not only possess the necessary technical skills but also align with your salon's values and culture. Seek individuals who are enthusiastic, motivated, and dedicated to providing exceptional customer service.
Consider implementing a trial or working interview to assess candidates' practical skills and compatibility with your salon environment. This allows you to gauge their ability to work within your team and deliver the service you expect.
Remember, a strong team will contribute to your salon's success and create a positive and enjoyable work environment for everyone.
Implement Effective Marketing Strategies
Gone are the days when salon owners relied solely on word-of-mouth referrals. In today's digital age, implementing effective marketing strategies is crucial for reaching and attracting new clients.
One of the first steps is to establish a strong online presence. Create a professional website where you can showcase your services, team and the unique aspects of your salon. Optimize your website with relevant keywords to improve your search engine visibility.
Social media platforms like Instagram, Facebook, and TikTok are powerful tools for engaging with your audience and showcasing your work. Share before-and-after media, client testimonials, and upcoming promotions regularly. And don't forget to encourage clients to leave reviews and engage with your posts to increase your online visibility.
Collaborating with local influencers, bloggers, or complementary businesses can also expand your reach. Offer discounted services or host events to attract new clients and create buzz around your salon.
Additionally, take into account the power of traditional marketing methods. Distribute flyers, business cards, or brochures in local establishments or participate in community events to spread the word about your salon.
At the end of the day, a well-rounded marketing strategy that combines online and offline efforts will help you win clients and establish your salon as a go-to destination.
Provide Exceptional Customer Service
Just because you're operating within a salon suite doesn't mean you should compromise on customer service. As with most businesses, the success of your salon will rely heavily on the level of customer service you provide. 
So go ahead, and take the time to understand your customers' preferences, needs, and concerns. Provide personalized recommendations and solutions to help them achieve their desired look or experience. Make them feel valued and appreciated during their time at your salon suite. 
From the moment clients step into your salon suite, they should be greeted warmly and made comfortable. Encourage your team to actively listen to client's feedback and continuously strive to improve your salon suite's services and overall experience. Going the extra mile will leave a lasting impression and keep clients coming back for more.
Effectively Manage Your Finances and Budget
Let's be real. We can't talk about business without the "money talk." Money keeps your salon running, and effective financial management is essential for the success of your salon suite.
Start by setting realistic financial goals for your salon. Determine your desired revenue, profitability, and growth targets. Break down these goals into actionable steps and try to achieve them one after the other. 
It's also essential to track your expenses and revenue meticulously. Record all financial transactions, including salon supplies, equipment, utilities, and staff salaries. Consider investing in salon management software to streamline your financial processes. 
Lastly, seek professional advice from an accountant or financial consultant. They can provide valuable insights on tax obligations, cost-saving strategies, and budget optimization.
By effectively managing your finances and budgeting, you'll better understand your salon's financial health and make informed decisions to drive profitability and long-term success.
Starting a salon business may be exciting and overwhelming at the same time, but by following the tips and strategies we covered above, you'll be well-equipped to navigate the challenges and maximize your salon's potential. 
At Luxame Salon Studios, we're here to support you on your journey to success. Get in touch with us today, and let's make your salon dreams a reality.
Endless perseverance for success and the freedom to create your dreams!
PRIVATELY OWNED & OPERATED
STUDIOS FOR ALL PROFESSIONS
FURNISHED & CUSTOMIZABLE
FLEXIBLE LEASE OPTIONS
REGULAR MAINTENANCE OF THE BUILDING
Salon Studios in Sugar Hill
BUSINESS SUPPORT
STUDIO MANAGEMENT SYSTEM
LARGE PRIVATE STUDIOS
SANITATION STATION
BUILDING PROFESSIONALLY CLEANED WEEKLY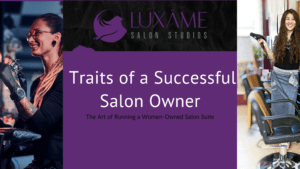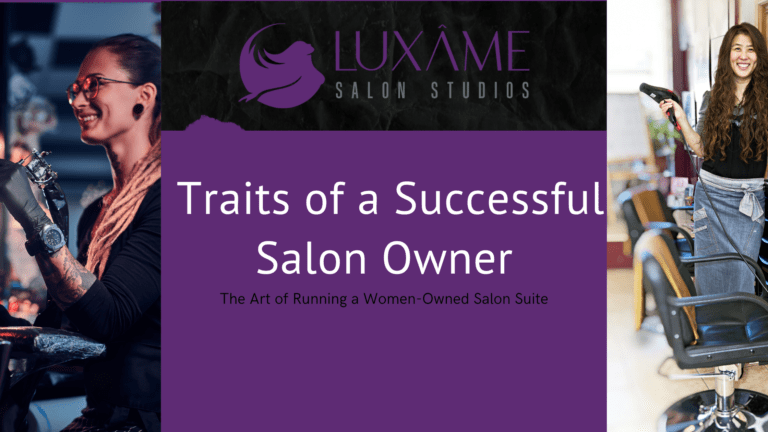 Welcome to a captivating industry where creativity flourishes, transformations happen, and dreams come to life. The beauty industry has always been a canvas for self-expression,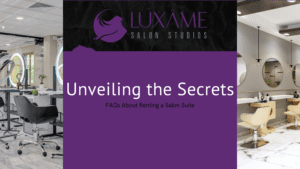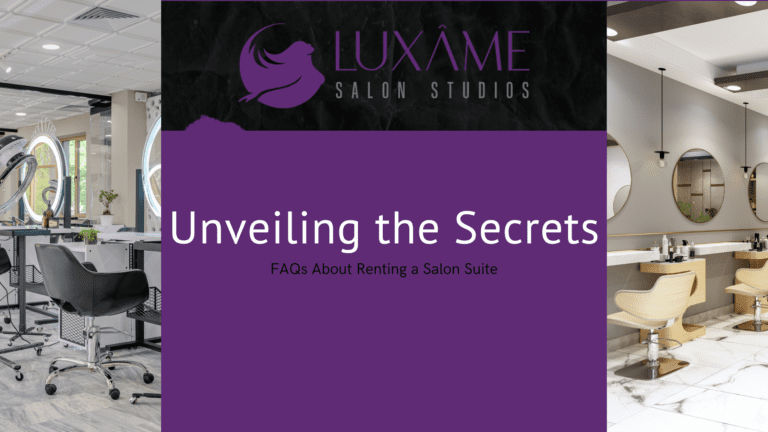 Considering taking your business to the next level as a salon owner? Anyone starting a new business has a lot of questions and may not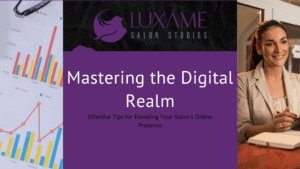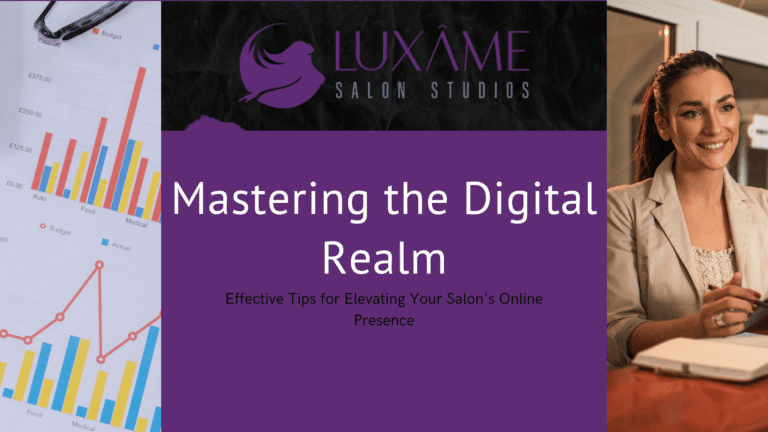 In today's digital age, a robust online presence is crucial for the success and growth of any business, including salons. To thrive in the competitive